We're A Hit
Thirty-one years later, we're a hit. For reasons both inexplicable and amusing, Streetwise, my first studio effort, somehow found its way out of the living rooms of the perhaps two dozen people who owned a copy and into dance clubs in Germany and France. I have absolutely no idea how that happened, or how this little private pressing has become a bona fide collector's item. What I can tell you is I field nearly a dozen inquiries every week asking if copies of the original vinyl release are available. So much so that I've created a form letter response, telling the same story of the extremely limited supply of sealed, shrink-wrapped copies packed in boxes which were destroyed when my basement flooded. The only copies I know to exist belong to the band members themselves, at least two of whom--R&B producer Dinky Bingham and The Voice house band vocalist Michael Hammond (who was age eleven when we recorded this) --have gone on to successful music careers. I myself own only one copy of the original vinyl, and would happily purchase another from collectors' resources if I could actually afford it. Prices have thus far ranged from mid-three hundred to $1,429 per copy. And, no, I don't get a royalty.

I find it enormously amusing and amazing all at once. The value is surely in the scarcity of the vinyl first pressing and not in the music itself. I sing a lot like a wounded moose and, with the possible exception of the late brilliant funk bassist William Wallace and the eleven-year old Michael (both praised in correspondence sent to me and internet postings), the music is of questionable value and the recording, on one-inch Scully eight track, is iffy at best. I did spend real money on the mastering from Bernie Grundman, whose company has mastered countless classic LPs, and MasterDisc, one of America's preeminent vinyl producers, created the master cylinder and manufactured the discs.

Offering digital versions of the album would be iffy because the only source files I have left are 292 kb ATRAC compressed MiniDisc, and I omitted several tracks because they really were just that bad. I suppose MasterDisc still has the original master cylinder lying around somewhere and film for the jacket, but, seriously, I can't imagine a second pressing of this, a first effort by a group of high school kids.

For this 2000 compilation, sent to the original band members, I used some alternate takes from the original Streetwise project, stuff that exists now only on cassette and on the custom CDís created for them, so there really isnít any way to clean those tracks up. Also, Iíve juggled the sequence of some things, looking to tell more of a story than present a true anthology.

Love Letter #2 was never included on an official project, but was kind of an afterthought. We had a little tape left on the 1982 White Soul album project, so I sat at the piano and warbled my way through this little ditty, a musical note to Karen. I was really uncomfortable playing and singing at the same time, but this wasnít supposed to be polished and was really more of an apology to her for spending so much time on the second album. Iíve started the compilation with it because, looking over this work, the core themes are my obsessions with women and God. The cheery optimism of Love Letter #1 contrasts sharply against the grim fatality of Chapter 4ís If I Should Perish (Love Letter #4), this compilationís closing number, and I think they make good bookends here.

The prayer invocation, Youíre The One, is our grace before serving up the meal. Thereís some really fine Fender Rhodes here by John Parker, who was constantly underrated, existing largely in the shadow of Dinkyís pyrotechnics. I think we took this live, with me standing in the drum booth while John played in the studio.

1982ís Sorry To Say was, perhaps, the most successful piece of studio music we did, Largely thanks to Dinky and John who brought this Los Angeles smooth laid-back arrangement to an otherwise forgettable amalgam of Shame and We Are Family. Dinky hated his solo, a ripping 3-1/2 minute jazzy thing I copped off of a Rolls Royce tune. I just didnít have the cash to let Dinky go back and redo it, and, to my then-untrained ears, the solo sounded fine. It still does, though I can see why heíd want another shot at it.

We went in at about 10 PM to record Sorry..., and emerged about 7 AM. Yanick and Florence, the twins, worked at a cookie shop on Queens Boulevard, and we headed over there for free cookies. I was driving a rental car a friend rented for me because I didnít have a driverís license. Neither did Dinky, who had been driving for years without one (he was 15 or so when he started; I think Dinky was about 17 or 18 at this time). Dinkyís example actually inspired me to start driving without a license.

We had the tape with us, and we were so high, so very happy and pleased. We were so young. The song came to represent this group of friends, these talented young adults. It was the last time we were all together at the same time.
New Witness: Original cover art shot October 25, 1980, 7:30 AM:
Tyrone, Michael, Lester, Debra, Hollis, William Missing: Gene, John, Milton, Pearl, Derek.
Photo by Eliot R. Brown. Art was scrapped after Debra left the group.
Frenemies
William Wallace, a pal from high school, holds a special place in The Story. When I was 15 or so, William and I formed a group called New Witness that eventually grew into a 8 or 9-piece band with a 25 voice choir. All young adults, all spirit-filled and gravely serious about doing Godís work, rehearsing in Williamís basement under the spiritual guidance of his wonderfully anointed mother Betty, whom I bless God for having brought into all of our lives.

William, a gifted bass player, had control issues and insisted on being in charge, the boss, head guy. I was the bandís manager, saxophonist and lyricist, writing over Williamís tunes (many of them very, very good, and William was only around 15 years old). Iím sure William always knew heíd be a star. I certainly thought he would. He was my friend, my family. We dreamed Big Dreams together.

William threw me out of New Witness over differences in interpretation of scripture. I was a bit incredulous that William, as Paul McCartney, would toss Lennon out on his ear because he says to-MAY-to and John says to-MAH-to, but that was pretty much what happened. I was dismissed, and the band dissolved a few months later.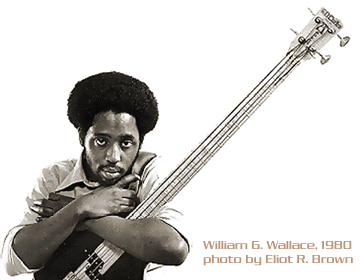 I really donít remember why I recruited William for the Streetwise project, but I seem to recall it had something to do with proving to him I held no hard feelings toward him. But this was definitely my project, and William braced against taking my direction. I ended up naming him co-producer or something, but he wasnít nearly as available for those kinds of tasks as the credit suggested.

A decent person, fun to hang out with and a giving person socially, William was what I would describe as a selfish musician. Most musicians are selfish people, interested primarily only in their own work and own projects. William played his own tunes, like Mr. Ugly, very well, but played my tunes with a kind of marginal enthusiasm. Mr. Ugly is William to me, a pivotal figure in The Story, and a source of conflicting feelings of loyalty and resentment.

Mr. Ugly also has a noise track over the music, where the band stood around talking. This was a crude homage to Tom Brownís Funkiní For Jamaica, but its role in this compilation is to bring those people back to life. Those happy peopleó William, Derek Burch, Milton, John (ďYeah, maybe I got old sneakers but you canít play no ball, nigger!Ē), and at center stage, James Crockett.

James wasnít in the band. He was my best friend and adopted brother. He was trying to date Yanick in high school, and he was the one who brought the twins into the project. James, like Michael Hammondís ubiquitous bodyguard Dexter, became a kind of hanger-on, only, here, on this tune, he became part of the band, making the track sing simply by being himself.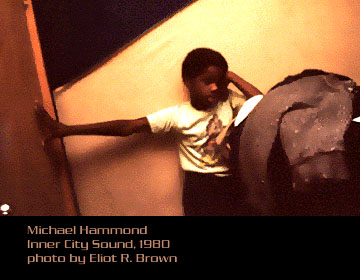 Dexter, by the way, was sent along with 11 year-old Michael to make sure, I guess, that we werenít sickos out to exploit the kid. But, after a few sessions, Michaelís mother knew we were okay, and Dexter became more of a band mascot than Michaelís bodyguard. I remember roaming Brooklyn in the after-hours with the band, feeling perfectly safe because we had Dexter with us. We were musicians, not tough guys. James was a tough guy. Dexter was a tough guy. And, between Dexter and James, nobody was going to get stupid with us. Weíd wander out at 2AM looking for food, or take the subway over to the Village or whatever we wanted to do. It was a really great time with really great friends.

Daddy was a shot at my father, whom I have never met. When I was 10 years old, I used to sing a lot like young Michael Jackson, so I recruited Michael Hammond, who sounded a lot like I did at that age, to play my role in The Story, while I sang the part of the grown-up me. I canít remember how I met Michael, except that I had heard of him before I actually heard him, and was introduced to his mother and worked things out with her before I was formally introduced to this kid. Michael became a kind of protťgť, which I now find a little laughable, considering I didnít know what the heck I was doing.

Lester Liburd hated the drum pattern I wrote for the song. One of my oldest friends in the world (we met at age 3 and our friendship began on tricycles), Lester had a way of shooting me this sarcastic, ďYouíve gotta be kidding me!?!Ē look. Iím so used to hearing the pattern now, itís hard to remember his being so up in arms about it.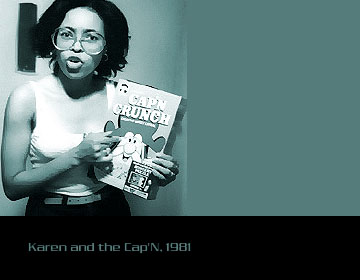 The Blessing was a song written for Karen, a girl I met when she was 17 and living in Atlanta (long story). It had a bizarre key shift on the chorus that kind of ruined it, I think, going from A flat minor to B flat minor. Debra sang the song, but later dropped out of the project under religious conviction against secular music. The version that appeared on the album was a much slicker mix with Pearl Bates performing the female lead. I didnít include that version here because, with each consecutive re-make of the song we lost more and more of its soul. Debraís original lacks much subtlety, but the honest, rawer emotion is much more beguiling, I think.

Prisoner of Madison Avenue was written for Karen. I was then and am now a workaholic. I was also seriously enamored of this cheery Billy Joel pop style (I think I had just gotten into Allentown or Glass Houses) and was seriously into pop formula. Dinkyís wonderful jazz riffs on Fender Rhodes were something I could not fully appreciate than, but now I marvel at the then-15 year-old kid. I hated Tyroneís solo. He was a great guitar player but he couldnít solo. Then again, neither could I.

Mansion In The Sand was my attempt to build a better vehicle for Michael, who was great little trooper. I wanted something on side 2 for Michael to shine on. I still like the song, in spite of its minor fifth Hollywood Game Show chorus. I included the version with the twins featured on backup because the harmonies are stronger. Dinkyís organ dominates the track and we played too fast, yielding a kind of runaway train experience.
Inner City Sound: October 1980: Debra, Tyrone, Pearl (seated) Hollis, Milton, Gene
Cropped: Lester (on drums), William (on Bass, far right). Photo by Eliot R. Brown
A New World
Elegy was something God inspired at some point during this project. A somber and grown-up observational treatise on Christians and Christianity, I liked it for its funereal pallor and opted to play my own wretched piano for the raggedness of it, rather than let a slick guy like John or a chops guy like Dinky play it. Itís a truly morbid song that flaunts its wannabe intellectual fakery at every bar, ending abruptly and unfinished. Man, I thought I was something.

The Bridge was the one song I used from Williamís and my New Witness Band. I really liked the song, and Williamís playing here, as on Mr. Ugly, was superb, probably his best on the album. I used an alternate take here, one with Debra and Michael singing in a kind of cheery farewell chorus line. We lost this version when we lost Debra (she asked we not use any of her tracks on the album), but this is, to me, the superior interpretation of Williamís song.

Just Friends was a vignette written to Karen. I think we broke up or were about to break up, I canít remember. Thereís actually a whole long-winded song behind that, but I wasnít interested in recording it.

Journey came about during one of our endless jam sessions. I just kept playing this little ditty Dinky put on the end of The Blessing, and William improvised a surprisingly country western riff over it. It was an unexpectedly Easy Listening bit of business for this funky crew. I was nervous playing the piano part, hoping people would not notice that it wasnít Dinky. I also dubbed in the semi out-of-tune MiniMoog lead line. Iíve included this reprise here as a kind of coda to the first project as we transitioned, 9 months later, into a whole new world.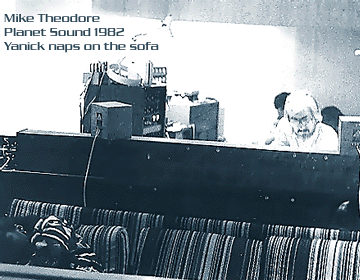 It was Mike Theordoreís world. Theodore had just taken over The Daily Planet, a rehearsal studio on 30th Street in Manhattan we rented from time to time, and upgraded it to Planet Studios, now one of New Yorkís top studios. 24 tracks, huge rooms, grand piano, Prophet V, and Mike worked a deal with me to buy blocks of time at an unheard of $75 an hour. Our production values went through the roof as we began the second album, White Soul, which followed my vision of some amalgam of Gil Scott-Heron and Prince.

Have You Seen My Girl? was, oddly enough, inspired by Yanick. Not in the sense of any true longing for her (we were completely platonic in those days), but in the sense that Iíd been sent searching for her once, and ended up wandering around down near the pier trying to find her while she was trying to find a bathroom or something. I wanted a bubblegum pop song for the project, much like Prisoner of Madison Avenue. I was still seriously into bubblegum, and I wanted the new album to have some resonance with the old. Again, Dinky provided jazz riffs on the break in the middle, playing over Derek Burchís bass. I think, by now, William and I were kind of politely avoiding each other, and I wanted to keep personnel to a minimum, going for the severe Prince sound of those days. Derek pulled double duty on bass and guitar.

The punk-inspired Join The CIA was just me being self-indulgent and riotously cynical. I guess the song worked on some level, but I edited it to just Michaelís parts here. Mike Theodore put a phase shifter on Lesterís hi hat, giving it a metallic clanking sound, to give the otherwise bald track a little something to run off of.

Same To Me was my first attempt to be Prince. Even as I recorded it, I was humiliated by my laughable attempts at falsetto. Eighteen years later, it now sounds like a parody, almost a cool in-joke. But I was very serious. I think I skipped that song every time I played the demo. In fact, I think everyone did. I played drums myself because I was looking for an edgy, amateurish strippy sound, like Prince on Dirty Mind, and I knew if I asked Lester for that he would give me The Look.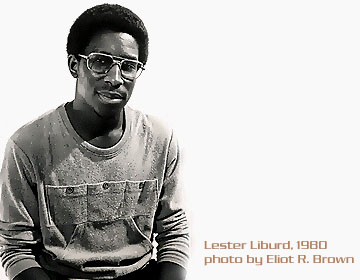 I also played drums on White Boys for much the same reason. No drummer I knew of could get it quite sucky enough. I also recruited Larry Hama, my mentor in comics, and Danil Dreger, my mentor of sorts in studio recording, to perform dueling Stratocasters. This worked marginally well, but the two guys didnít really gel, and I realized it probably would have been a better idea to get Danilís bandmate to play with him, or get Larryís bandmate to play with him; people they knew and could easily mesh with. White Boys holds up pretty well, I think, as a song designed to sound like a high school garage band.

Drag Me Away came out of two specific influences: The Temptationsí Masterpiece, which was producer Norman Whitfieldís homage to himself (including a huge, messianic portrait of himself on the albumís back cover) and a song that drones on for nearly six minutes before any of the Temptations actually sing, and B-Movie, Gil Scott-Heronís seminal work of biting social commentary. Regrettably, I was no Gil Scott-Heron, and I certainly was no Norman Whitfield. But Drag... dragged on for more than ten minutes while I whined and complained.

One minor note: while mixing Sorry To Say and Drag Me Away, Mike Theodore spent two full hours listening to Lesterís kick drum, while I writhed on the sofa in the control room, counting up the bills on the studioís still-running meter. When I asked him what on Earth he was doing, Mike looked at me and said, ďAnything worth doing is worth doing right.Ē And he was right. No point at all in spending twenty-five hundred dollars and ending up with a crummy tape.

Mike did a superb job and had lots of patience with me, someone who had not much clue what he was doing, and who spent a fortune recording songs no one wants to listen to.
Christopher J. Priest
January 2000 UPDATED OCTOBER 2013