Desperado
In 1985 I decided to dedicate myself to Christian evangelism and pitched a new project to the new pastor of Bethel Gospel Tabernacle. He endorsed the idea, and I went out and organized the second incarnation of the New Witness band. New Witness II included Dinky Bingham, whom I was lucky to have. Dinky was in huge demand everywhere, but I may have won him over with the cause of Christ and all of that. Derek Burch, my pal and the guy you could always count on, came along to play guitar, and Steve (whose last name escapes me) joined to play drums. Patrice, Dinky's girlfriend, sang with Dinky and myself, and a guy whose name completely escapes me came aboard as bassist but quit soon thereafter. I brought in William, who really wasn't prepared to be in a band where I was the leader, so William moved on. Left high and dry, I reached out to Qabid Hakim, then a teenage bass phenom, for the bass chores. Qabid, whose brother Omar had reached fame as Weather Report's drummer, was an excellent bassist but he was also a Muslim which gave Church Folk pause whenever I introduced him. I'd known Qabid since he was an obnoxious, arrogant 14 year-old I'd met while briefly playing alto sax in Paul "Lucky" McCargo's combination funk band/street gang (long story). Tina McCargo, Lucky's little sister, was my first kiss, behind a neighbor's garage as I recall. Tina, wherever you are, I should have married you.

I abandoned New Witness II after our first performance. Dinky talked me out of playing Desperado, the song included here, at Bethel because he said, "The Church Folks will kill us." The gig at Bethel was meant to rally the troops behind our outreach effort, and the pastor and youth pastor were supposed to meet with us after the service to coordinate their outreach teams and so forth. But the youth pastor left early and the pastor ignored us. I felt betrayed and clotheslined by the church, lost all heart and, for years, all confidence in the church as an institution. I never called another rehearsal, and ignored the band's phone calls, doing inestimable damage to those relationships.

Later that summer, my friend Steve was getting married and asked me to perform at his wedding. Rather than go back to New Witness II, whom I'm sure wouldn't even speak to me, I had Qabid assemble some of his studio buddies, which included Miles Davis sidemen Steve Horton on guitar and Michael Campeni on drums, Kaleb James on keys along with Qabid on bass.

At the last minute, Steve's father refused to allow us to play the wedding, insisting on an Amy Grant clone singing You Light Up My Life off of a cassette backing track. I was out a lot of money for the band and a lot of time rehearsing them, so I decided to make a tape of the songs and present the songs as a present to Steve and his wife. I booked time at Matrix in Bayside, Queens.

We were going to record live to two, which means there was no mixing, no overdubs and no chance to fix anything that might go wrong. What did go wrong was the engineer had a death in the family and canceled our first session. Kaleb could not make the second session, so Qab recruited Lesette Wilson, who went on to produce Phil Collins and Phillip Bailey's #1 hit Easy Lover, among many other things. Lesette took the reins and moved things along on her own. I was thoroughly intimidated by her, but impressed that Steve and Michael knew her and knew how to take direction from her. Bullied out of my producer seat, Lesette really hammered the session together for me.

The engineer inexplicably refused to use Dolby noise reduction on the tape, running it at 30 ips (inches per second) rather than the standard 15 to give it a hotter sound. Hot, but still noisy. I don't think he used Dolby on the cassette, either, hence all the hiss on this track.

I nailed A Mighty Fortress Is Our God but Lesette made me so nervous I flubbed all over The Wedding Song and wince whenever I hear it now.
Derek And His Timex
Derek Burch became a really close friend. He stopped by once, in 1985, with an old, beat-up reel-to-reel machine he'd found somewhere and nursed back to life (Derek was really good with electronic repair). He also had a, I kid you not, Timex drum machine, one of the earliest non-Linn, non-Oberheim drum machines. It was really bad. We set up shop in my living room and recorded Summer of '75, my tribute to Lolo, one of my best friends' kid sister, whom I once had an inappropriate crush on (I was 17, she was 13. Heaven forbid). The track was awful, but Derek and I had fun recording it, tickled by the notion of recording our own studio tracks at home.

Karen picked up on my giddiness and bought me a 4-track cassette recorder, the Tascam PortaStudio, for my birthday. I went out and bought a bass, a red Ibanez. Could I actually play bass? No, as Aaron Hall (late of Teddy Riley's group Guy) proved the first night I brought it to church. Hall borrowed my bass and played up a storm, then handed it back to me, leaving me sitting there, dumfounded about what to do with the thing.

I got a Roland TR-707 drum machine, and immediately started making my demos at home. I had no clue whatsoever what I was doing, as my bizarre cover of Louie, Louie certainly attests. I think I covered that song because there was a Louie, Louie contest on the radio with a cash prize for the best cover. I didn't win. Michael came over and did the vocal. The tape, now 14 years old, deteriorated quite a bit, so Michael's vocals are unintelligible. Of course, so were the vocals on the original song.

Here my big influence presented itself in this attempt at the Minneapolis sound freshly minted by Jimmy Jam and Terry Lewis' monster track I Didn't Mean To Turn You On. I tried to copy that song's reckless coke-fiend-on-the-Autobahn over-the-top head banging, but I had not much clue what I was doing.

Love Letter #2 was a song I'd written back in 1977 for a girl named Brenda. She was in William's New Witness Band, and I adored her. But she had a few bats in her belfry; I mean, Brenda was always kind of unavailable in a really Zen way, but she was really good people and fun to be around.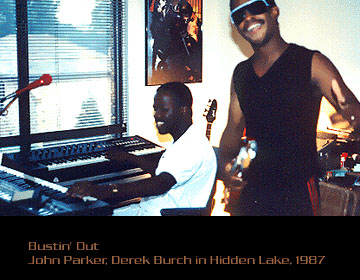 I didn't really get the hang of the 4-track thing until I moved into Hidden Lake, a luxury apartment community in North Brunswick, NJ. Karen and I unofficially broke up in 1986, though she didn't move out for nine months after. Some weekends, Derek Burch and John Parker would come up to the house and work on some music. John always wanted to work on some music. He was a very dedicated musician, who thought only of his art, But he was also a generous musician, who could play my songs as enthusiastically as his own.

By 1986 Qab was a good friend, and it came to pass one long weekend, John, Derek, and Qab came over, sleeping on my floor and sofas, while we cut tracks all weekend on the PortaStudio.

I'd met Glen Alexander in a Rutgers University Chinese restaurant, where he was playing elaborate New Age stuff out of cheat books and necromantic box charts. He joined the guys at my house to do Eddie Van Halen riffs on I Don't Wanna Be Your Friend, Joyce, and Bustin' Out— tunes that ended up in a demo I called Girls.

Noisy, unlistenable stuff, I recorded most of this on metal bias cassettes, which meant High End City. Most of Chapter 2 is pretty painful, literally, to listen to.
What Girls Are Made Of
What The Heck was me getting into those pretentious "intros" a lot of bands were starting to do, while borrowing whatever I could from my heroes, Jimmy Jam and Terry Lewis. I Don't Wanna Be Your Friend sprang out of a conversation with Qab. It's designed to sound like a riff from The Time, a narcissistic romp meant to open shows by undermining the fake rapport artists are supposed to build with their audiences. The most interesting thing about this track is my Billy Cobham drum track, a very involved and complex program that took me almost ten hours to create.

Daddy was my Jam and Lewis take on the song from Streetwise. I did not recruit Michael to sing it because I didn't feel like driving the hour and a half each way to pick him up. The song has some interesting ideas, but the wretched playing and high noise make this a really painful experience. The laughable "drum solo" that grinds everything to a halt doesn't help much. I do, however, revel in the track's off-kilter drum pattern, something I'm certain would have earned me The Look from Lester. Oddly enough, he liked it when I played it for him. Yikes, that was the last time I saw him, around 1988 or so. Qabid literally screamed at me for not letting him play bass on this. He was right.

Joyce was my one and only dalliance with Country & Western musical styles. Inspired by my beloved first cousin who lives in (gotta say it a thick hick accent) Nashville, I fell madly and completely in love with this woman the moment I laid eyes on her (I met her for the first time when we were in our 20's). She became the standard, the bench mark by which to compare and rate potential mates. I've promised myself if I ever found someone who was half the woman Joyce was, I'd marry her on the spot. I loved this track and still do.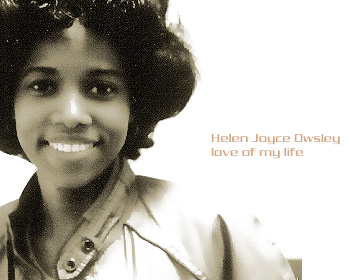 The oddest thing happening here is Qabid, the funkmeister, grooving with startling ease and serious melodic craft and wit through the winding labyrinth of this square-dancer. I actually marveled at how comfortable he was with the tune, never really giving it a second thought. To Qab, a tune was a tune was a tune. If Qab liked a tune, he'd play the hell out of it, no matter who wrote it. He was, in many ways, the Anti-William. And, while he was at best marginally aware of William, William disliked Qab intensely.

John Parker, at the session, was annoyed that I opted to not put any keys on the track. Joyce is the only tune I've ever done that doesn't have a keyboard part (until I Know You Don't Believe, Yanick's vignette in Chapter 4).

If You Only Knew marked a brief but ugly period in my life when I was completely obsessed with Nancy, an old friend from summer camp. We'd met when I was around 15 and she was 13, skinny and tomboyish, standing on a knoll outside the camp kitchen, mocking me while I worked inside as a dishwasher. She was Lucy Van Pelt to my Charlie Brown, and it wasn't until we bumped into each other again as adults that any real attraction presented itself. Nancy, now an attorney and married mom, had this yes-no, come closer-go away thing going on. And I, back in my more co-dependent days, went along with the program.

The most significant thing about the relationship was she didn't actually seem to like me. I had long hair and wore freaky clothes. But, by the time Nancy got done with me, I looked like an accountant. I became exactly the man she, by design, invented. And then she got bored and moved on to torture someone else (2013 Update: Nancy denies this, Your Honor). If You Only Knew was written, essentially, to try and impress her.

The second version of Summer Of '75 was the more or less official recording of this whiny tribute to missed opportunity. Of course, Lolo, the flower of innocence I had such a secret crush on, actually turned out to have been, at 13, far more experienced than I was at 17. Maybe more experienced than I am now. The reality of Lolo's sophisticated handling of me— her complete sexual and emotional dominance— was the first and best example of my chronic isolation from reality. Summer reflected the fantasy of what I wanted life to be, what I wanted her to be. The reality was. all around me, people were gently orbiting in a kind of loving deference to my lunacy and innocence. I was The Man Who Knew Much Too Little about everyone and everything. Absolutely everyone in my life was lying to me. Most of them still are. Gentle lies, for sure. But everyone from my mother and sister to Lolo and my friends to Nancy The Terrible told me basically what I wanted to hear. I was like this mentally challenged 12 year-old, beloved by a world of liars.

I finally realized how simple and naive I was, how great a subject of pity and derision, the night I caught myself stalking Nancy. Totally in Obsessive Mode, one night I drove the hour and a half from Hidden Lake to her house in Bayside, sat on the hood of my car and waited for her to come home. I had champagne flutes and a bottle of sparkling cider (!) in the trunk. I actually thought I was being clever, or romantic. But as the hours dragged on, it finally dawned on me, Nancy is on a DATE. And, worse, You REALLY don't want to be here when she gets home. I suddenly realized I was stalking her. I was one of those guys, the pathetic Big Bang Theory losers who own official replicas of Star Trek uniforms. I sped out of there, went home, and wrote Gotta Getcha Outta My Life. I mean, she didn't even like me.

Post Nancy there was Monica The Unbelievably Beautiful Model. She was one of those tall, lithe, unnaturally thin women with biologically implausible bustlines and eyes you could lose yourself in. We became close, but couldn't quite close the boyfriend/girlfriend deal because of two things: one, she was so attractive she'd literally stop traffic. And I became horribly self-conscious when we'd go places and people would, I am not lying to you, stop talking when we walked in. Jaws would drop, and then, the gawkers would stare at me, as if to say, Why is she with him?!?

The other problem was, like Nola Darling in She's Gotta Have It, Monica was seeing three other guys and wasn't able or willing to give them up. So we never really made it far as a couple, and I sneered out Frank+Timmy+Angelo, a riff off of Prince's Irresistible Bitch, as a kind of adios! to that relationship.

Which led to Yanick, the somber half of the twins who sang on the first studio projects. Annoyed at Monica, and finally wanting to be rid of her, I started digging through my black book looking for Pasha's phone number. Pasha was Brenda's sister (Love Letter #2) and, while Brenda was a question mark, Pasha seemed to be a bit more accessible I figured it couldn't hurt to see what was what. Pasha and Brenda and her family had moved, though, so I kept flipping in the book until I stumbled across Yanick's name. We got back in touch and it was, for me, love at first sight. She was seeing someone else at the time, for which I was actually grateful, considering I didn't want to be in love with anybody.

But, the fact that I could feel that way about her—about anybody—left me elated beyond words. It meant I was finally over Nancy. This realization gave me the impetus for Eye Use 2 Sing Like Prince.

seventhirty was a screed at Darlene, my best friend on the planet. I torpedoed that friendship by asking too much of it. The song started out as a simple vignette but grew in breadth and depth over two years, until it became nearly 14 minutes of screaming at Darlene. The recording proved cathartic, though: all of my anger at her went into the song, and I sent the song to her, beginning a long and difficult re-building of that friendship. The refrain, "7:30," had meaning only to myself and Darlene, who suddenly and tragically passed away in 1995.

Fantasy was inspired by Prince's spinoff group, The Time--a major musical influence--and the short-lived Mazeratti, both of whom combined funk with metal. I wrote the lyrics as a tease to Chantee, a friend at work, who was tickled by the tribute. Fantasy was mono, recorded on the old PortaStudio on a metal bias tape. Eccch. Glen's guitar work is amazing here, though. I really wish I'd done a better job recording this.

New Strings is just me warming up for Gotta Getcha Outta My Life. I'd discovered my little combo keyboard amp had a direct out on it, and I could play my bass through the preamp and get a much cleaner sound.

When This Is Over was written in loving memory of James Edward Crockett, Junior, who died of medical negligence at age 1. A toddler taken in for minor surgery, given a wrong anesthetic mix, James Jr. slipped into a coma and never woke up. This was James (from Chapter 1's Mr. Ugly)' son, and we all sat vigil with him and his wife for several days. This was my nephew, my godson. It was a tragedy of inestimable proportions, and it nearly destroyed us all. This song is taken from the 61st Psalm, For thou hast been a shelter for me, and a strong tower from the enemy.
Christopher J. Priest
January 2000 UPDATED OCTOBER 2013